Lifting telescopic monorail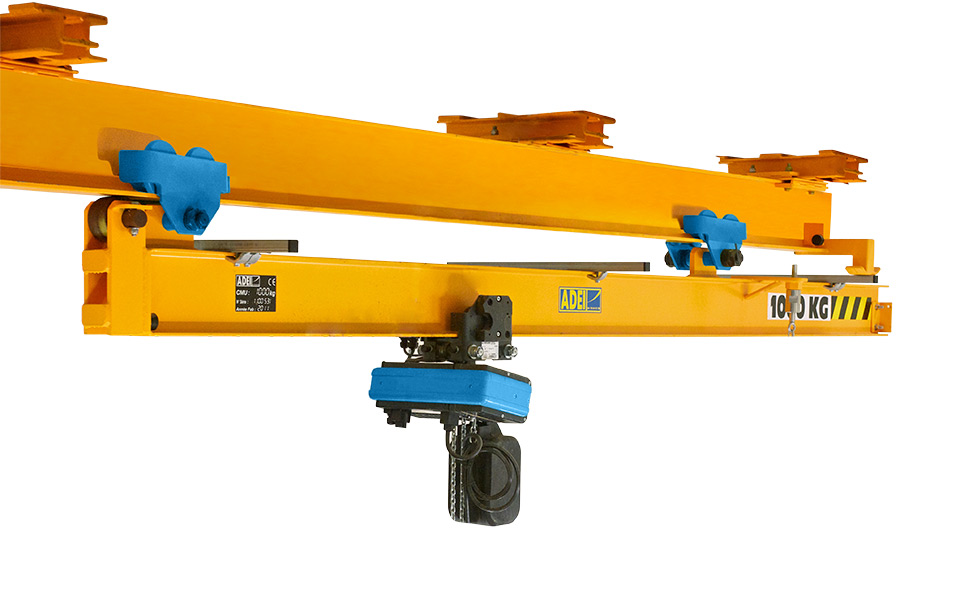 Lifting telescopic monorail specifications
The length of the telescopic device depends on load, distance between anchors points and distance from the lifting axis. The lower beam is provided with a grit-roller.
Lifting telescopic monorail description
A lifting telescopic monorail is a device made up of two overlapped monorails. The first one is usually anchored under a concrete slab or under an existing steel structure. The second one can be moved by translation on driving manual, electric or air trolleys.
This allows the lifting device to be stored in a siding without any disturbance to the rest of the area.
Both monorails are equipped with end stops as standard.
Lifting telescopic monorail assembly
Assembly depends on the configuration of the site. Lifting telescopic monorails are anchored under a concrete slab, under an existing steel structure or under a self-supporting structure. In the case of the self-supporting structure, the couple beam and base assembly is a free-standing structure.
Single monorails / assembled monorails
Depending on the length required to move the load, a monorail is single beam designed or by splice bar assembly dedicated for the support beam and without splint for the telescopic beam.
Types of beams for telescopic monorails
Several beam profiles are available for your telescopic monorails manufacturing.
IPE steel rails available on different finishing variants such as a specific paint with or without metallization or galvanization process choice

304 or 316L stainless steel rail made of reconstituted profile. This type of stainless steel rail is delivered stripped + passivation processed. We can make a microbead-blasting finish for monorails intended for the space sector or food industry entreprise.
Attachment systems for telescopic monorail
Many solutions are available for fixing the supporting monorail beam:
ADEI hangers
Jack stands or pillars
I-beam wall bracket
Flat-welded attachments
Halfen rail
Special ceiling or wall mountings
Telescopic monorail hoist
All monorails can be equipped with manual, electric or air hoist trolley in standard version or corrosion-proof version specially designed for moist areas, clean rooms or ATEX zones (according to regulations).
Telescopic monorails inbedded in a lifting structure
ADEI designs and manufactures custom-made structures integrating lifting monorails and suspended beams. According to the context and the specificities of your design brief, we offer you adapted equipments such as: monorail gantry crane on jib support, bridge crane monorail, double-rail gantry with overhead crane, double-rail gantry with suspension crane, fixed handling gantry crane.
Telescopic monorails in pictures
Telescopic monorails options
Specific ceiling or wall anchorage: ADEI hangers, jack stands or columns, I-beam wall brackets, Flat-welded attachment, Halfen rail
Standard or specific paint, special primer, sanding
Stainless steel version
Rail division into sub-elements with splint connection
Trolley with manual, electric or air steering