Grabs and clamshells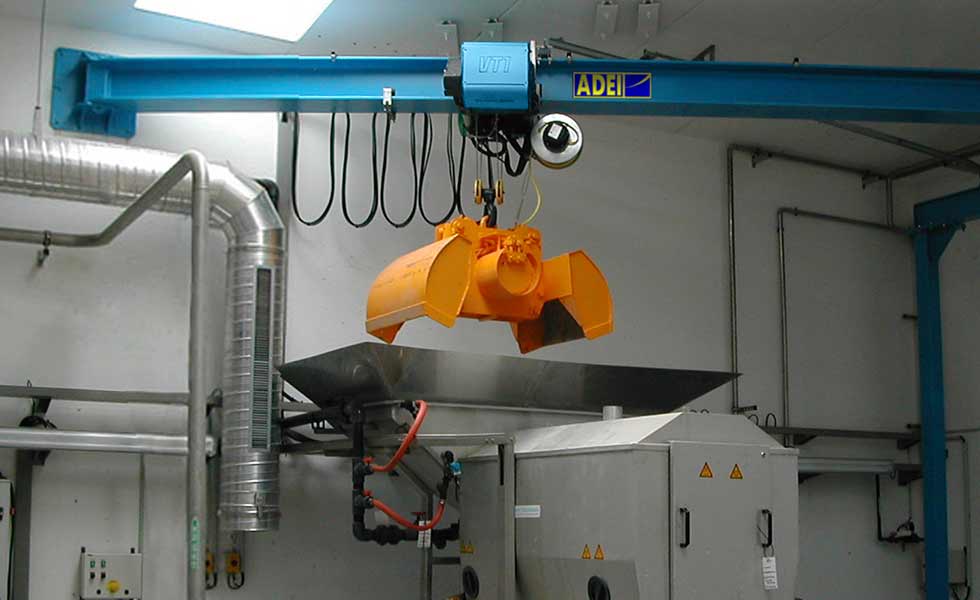 Sludge clamshells and grabs description
Clamshells and grabs are lifting accessories designed for the extraction of solid rubbish or residual sludge generated by water treatment during sewage treatment plants processes. The grabs and clamshells are coupled with a lifting electric wire rope hoist.
Type 1 grabs and clamshells: sludge disposal
Clamshells used for sewage sludge disposal from destuffing area to the hopper. This type of waterproof clamshell is provided with automatisation.
Type 2 Grabs and clamshells: desanding
Clamshell used on sewage treatment plant intake buildings for conduit desanding and cleaning. This type of clamshell is not waterproof. The implementation is manually done, according to the needs controlled by the operator.
Clamshells and grabs Assembly
Manual or automatic clamshells and grabs can be installed on monorails or jib carnes overhanging filtration systems on sewage treatment plants.
Automatic Grabs and Clamshells
At the beginning of 2014, we have implemented a new programming process taking into account the efficiency and profitability parameters of your installation. This process meets the increasingly demanding criteria of your customers. A touchscreen human/machine interface allows your technician to program the machine control and automation of the sludge disposal operation.
Custom-made grab and clamshell
ADEI Ltd offers its expertise as a designer / integrator of handling with clamshell or grab systems.
"pelican" or "standard" type shells choice,
motorization with hydraulic embedded or decentralized power pack
Demonstration video
Grabs and clamshells in pictures
Grabs and clamshells options
Automation (automatic / semi-automatic)
Human-machine interface
Capacities / custom-made sizes
Outdoor device covering
Tropicalization
Custom-made versions for liquid or solid weights