Automatic Lifting Hook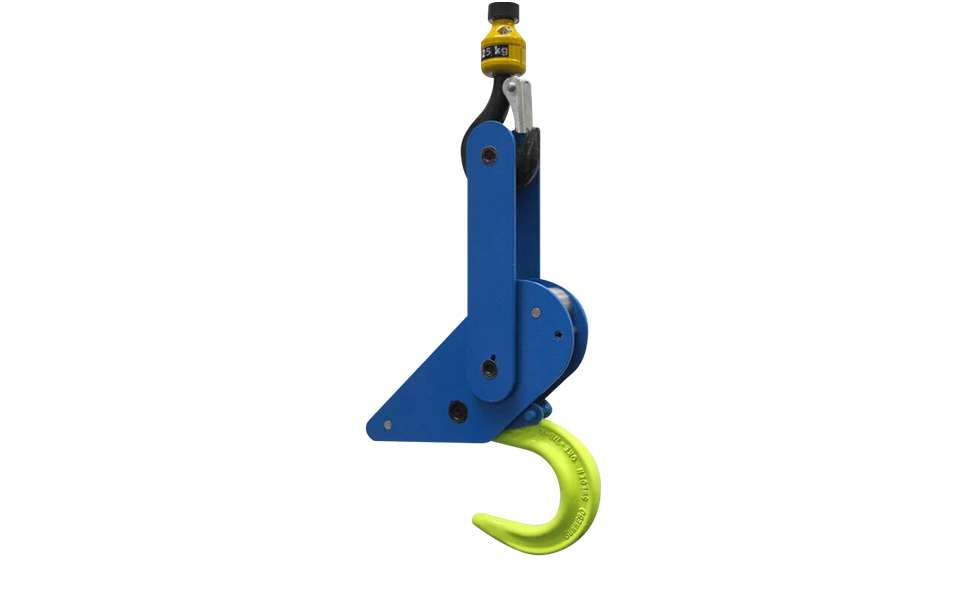 Automatic Hook Specifications
| Mark | Maximum Load Weight Capacity | Weight |
| --- | --- | --- |
| Automatic hook n°2 T | 2 000 kg | 3 kg |
| Automatic hook n°5 T | 5 000 kg | 6.7 kg |
| Automatic hook n°10 T | 10 000 kg | 15 kg |
| Automatic hook n°15 T | 15 000 kg | 24 kg |
| Automatic hook n°20 T | 20 000 kg | 37 kg |
Description of the automatic lifting hook
The automatic hook is a lifting and handling accessory that allows loads to be hung and unhooked without manual operation. From a stricktly mechanical design, it offers guarantees of safety and reliability in cases where the operator cannot be close to the load due to accessibility reasons (restricted environment, hanging point in a confined area) or productivity.
A 100% mechanical automatic hook
During the unloaded approach phase, the hook remains open and in the horizontal load-taking position. During lifting, the load is held by the hook in the closed position. During installation, the hook remains in its closed position even after removal, so that it can be raised if necessary. For clearance, the hoist is opened when it is positionned at an angle of 60°.
Easy maintenance
The automatic lifting hook is fully mechanical designed and means an alternative to initially devices designed operating with a hydraulic or electric automatic hook. The case of the automatic hooks is designed on open structure to simplify inspection and mechanism cleaning. In normal operation and in a standard environment, maintenance consists of cleaning with pressurised air and greasing the sliding surfaces.
Use of automatic lifting hooks
Mounted on a overhead crane or a mobile lightweight jib-crane, the automatic hook can be used with manual, electric or air hoists. Lifting hooks are undergoing maintenance lighter and less expensive than hydraulic hooks. They can also be used in lifting systems on loader cranes flatbed lorries.
Automatic hook for a sewage treatment plant
Automatic hook naturally replaces the lift chains in sewage treatment plants. Quickly easy to set up to the hoist hook, the automatic hook simplifies and facilitates the attachment and handling of the pump during replacement operations.
The automatic lifting hook in video
Automatic Hoist in pictures
Documentation