Steel test weights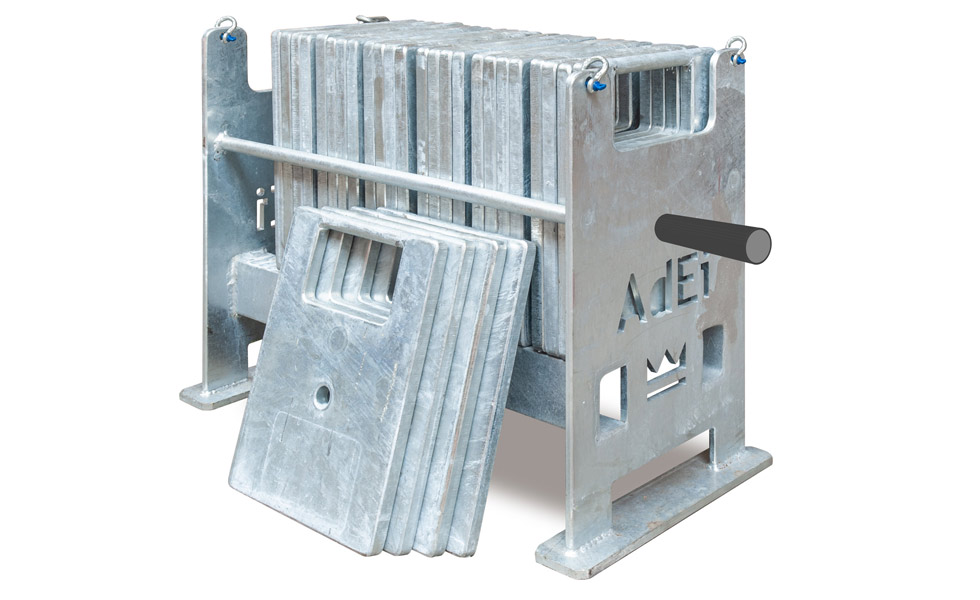 Specificity of a standard steel weight
| Model | Number of loads | Weight of a load | Total weight |
| --- | --- | --- | --- |
| PCE 250 | 18 | 12 Kg | 250 Kg |
| PCE 375 | 28 | 12 Kg | 375 Kg |
Metal pig irons test weights
Metal pig irons test wights are used when you test statically and dynamically lifting equipment and accessories: overhead cranes, aerial platforms, lifting tables, freight elevators under load, truck liftgates, etc. They consist of a basket designed to suspend a group of metal pigs irons. Safety checkings are recommended before any lifting equipment commissioning or after repair and maintenance.
Ergonomic metal test weights
The weights are equipped with handle systems and are on under not exceeding 33.06 lb (15Kg) per unit for ergonomic handling. The reduced dimensions of the basket are to minimize space requirements during elevators and lifting devices conformity tests installed in confined spaces.
The basket has partition compartments to facilitate its centre of gravity balancing. The basket is suspended by slinging using 4 shackles placed at the corners of the basket (slings not supplied).
Manufacture of cutom-made steel lifting test weights
Our design office engineers custom-made test specifications adapted to your design brief. Custom-made baskets with your laser cutting logo on side panels on request delivery.
Periodic inspection of lifting equipment and accessories
In case of absence of such controls, there are many risks, both for the personnel operating and for the company manager in charge. The periodic inspection of lifting equipment and accessories is an obligation imposed by the Decree of 1st March 2004 on the inspection of lifting equipment and accessories.
Reduction of the risk of accidents involving material and physical damage
Conformity of equipment covered by insurance
Reliability and confidence of users, customers and partners
Steel test weight in pictures
Steel test weight options
Special paints
Galvanization
Custom-made by laser cutting front basket logo
Coupling monobeam spreader for two basket lifting
Trolley with a chassis + 4 rollers + drawbar